CM_ICEPortExplorer is a set of customisable context menus to speed up ICE workflow.
It allows quick placement of your favourite ICE attributes onto Set Data or Get Data ports.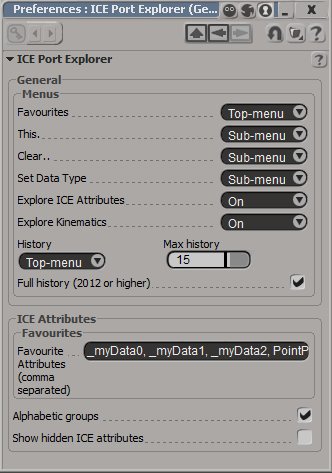 Features include:
Favourite ICE attributes – customisable list of your most often used attributes.
Browse for any ICE and kinematics attributes available on a port. Can be split into alphabetic groups.
Set port data type.
Quickly clear the port or set it to 'This.'
Records a history of the most recently chosen attributes from the context menus.
In Softimage 2012 even typed-in attributes can be recorded into the history menu.
All menus can be disabled or switched between top level or sub-menus.
Auto management of name conversion – choosing "pointvelocity" from the menu on an empty node will automatically resolve to "This.pointvelocity".
If the set data already has a connection or entry in the name field, the menus will try to resolve that as a scene object and display its ICE attributes.
Get the addon here -
Ciaran Moloney's blog